Gerald McDermott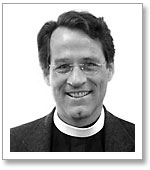 Gerald McDermott is Professor of Religion at Roanoke College and pastor at St. John Evangelical Lutheran Church of Roanoke. One area of his research is Christianity and its relations with the other religions of the world. In addition to this work, Prof. McDermott has also written extensively on Jonathan Edwards and pastoral theology, and is currently engaged as the editor of the forthcoming Oxford Handbook of Evangelical Theology, to be published in 2010.
Prof. McDermott graduated from the University of Chicago in 1974 with a BA in New Testament and Early Christian Literature, and so knows the tradition of conversation and research that is the life of this university. Prof. McDermott brings rich resources in academic research and personal experience for his part in this yearís venture at Christian engagement with the university.
Some of his publications are:
One Holy and Happy Society: The Public Theology of Jonathan Edwards

(Penn State Press, 1992).

Jonathan Edwards Confronts the Gods: Christian Theology, Enlightenment Religion and Non-Christian Faith

(Oxford University Press, 2000).

Can Evangelicals Learn from World Religions? Jesus, Revelation and the Religions

((InterVarsity, 2000).

Godís Rivals: Why God Allows Different Religions-- Insights from the Bible and the Early Church?

(InterVarsity Press, 2007).

Claiming Christ: A Mormon-Evangelical Debate

((Brazos Press, September 2007).
Top